These are most definitely unprecedented times in our lives; worldwide pandemic, store shelves bare, islands closing. We understand the gravity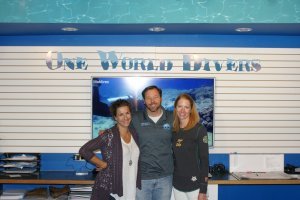 of the situation, and are doing our best to follow the CDC guidelines and state mandates.
Although it's not "business as usual", we are still open. Our travelers need our assistance in rebooking their trips, gear is being serviced, and people still want to learn how to dive.
We have instituted several additional procedures to try and keep everyone safe. These include additional disinfecting protocols for our store, rental and serviced equipment, trying to maintain our "social distance" during our interactions and spreading out our students in class. We are reaching out to every student before class to offer to reschedule if they are sick, subject to quarantine or don't feel comfortable to attend.
We are no longer shaking hands or giving our usual hugs to our dive family, but know that we are only doing our best to help minimize the spread of this deadly disease.
For those that are asking why we don't close our doors, it's because we are trying our best to not lay off our entire staff. These are challenging times for every business, and we don't want to add bodies to the unemployment line. If you get your regulator serviced, take a class (we are exploring online only teaching options), buy that defog or book a future trip, that's hopefully one more day (or week, or month) that we can keep our staff employed, able to buy groceries and make their rent payment.
We know the world is a scary place right now. The only way we know how to deal with it is to do what we love. We're divers, we're a hearty bunch, and we will recover. If dreaming of my next dive gets me through the day, I'll take it! If, like me, your happy place is underwater, come do a pool workout! We're limiting time slots to one group/family per hour to enhance your safety. Reservations are required.
Stay safe out there, we hope to see you, and for goodness sakes, go wash your hands!