Recalls and Updates
Galileo HUD Firmware Update
The new Galileo HUD Firmware, Version 1.5 is now available at SCUBAPRO.com
We recommend to always install the most up to date version on your SCUBAPRO dive computer.
The new firmware introduces a new "Battery Sleep Mode" when battery power drops under a certain voltage. To reactivate the HUD from that Mode the customer must leave the HUD with the deep discharged battery on charging and the recovery will happen automatically.
You will find the new HUD Firmware Version 1.5 along with installation instructions on the SCUBAPRO website at https://www.scubapro.com/software-firmware.
New HUDs moving forward will have the new version pre-installed.
NOTE: The new firmware does not cover improper start-up of a brand new unit.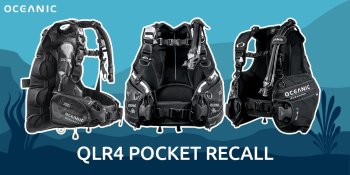 Oceanic QLR4 Weight Pocket Voluntary Recall

There have been incidents reported of QLR4 weight pockets failing during normal operation, which could pose a drowning hazard to users. We recommend taking all necessary precautions and discontinuing use of the affected products immediately.
Affected Products:
To determine if the BCD you purchased is affected by this voluntary recall, any Oceanpro, Excursion, or Hera BCD with serial numbers within 608262-695909, 1170357-1180342, 1200001-1200070, 20031001-22082698, and have a QLR handle that DOES NOT contain a date code (see Identifying Marks section) on the underside needs to stop use immediately. Furthermore, if you have purchased QLR4 weight pockets since 07/2019 that do not have a date code, they are also affected by this recall and should be replaced as soon as possible.
Click here for more information.



To all Atomic Aquatics customers,
Atomic Aquatics has learned of an issue that may affect low pressure rubber hoses rendering them unsafe for use.
At Atomic Aquatics, your safety is our top priority, that is why we are proactively replacing any hose that falls within the scope of this issue. All rubber hoses, whether sold separately or attached to regulators, that were produced between July of 2017 through February of 2019 are part of this replacement program.
It is of the utmost importance that if you have an Atomic Aquatics low-pressure hose with the date stamps D0717, D0817, D0917, D1017, D1117, D1217, D0118, D0218, D0318, D0418, D0518, D0718, D0918, D1018, D1118, AA119, or AA219 that the hose be quarantined and replaced as soon as possible. See images below for example of date stamp. This notice applies to all Atomic Aquatics low-pressure hoses with the affected date stamps, whether purchased separately or as part of a regulator and/or safe-second.
Please note: professional assembly work is required, and this replacement cannot be conducted at the user level. If you are concerned a hose in your possession is affected, visit your local dealer for service as soon as possible. Not sure where to go? Use our dealer locator to find the nearest Atomic Aquatics location.
If you need further assistance to determine if your hose is affected, please contact our service team at (888) 270-8595 ext. 4, or via email at AALPHose@huishoutdoors.com.
Low-Pressure Atomic Aquatics Hoses bearing the date stamps D0717, D0817, D0917, D1017, D1117, D1217, D0118, D0218, D0318, D0418, D0518, D0718, D0918, D1018, D1118, AA119, or AA219 will be replaced free of charge by Huish Outdoors.


Mares Issues Urgent Voluntary Recall Notification for Third-Party Inflators
Mares has issued an urgent safety recall on inflator mechanisms used in its XR range of scuba diving products.
The voluntary recall notice was issued for inflators manufactured by third-party supplier Ferplast. According to the notification:
'Under certain circumstances, the deflation button could come unscrewed which could result in loss of the seal at the mouthpiece. This in turn would result in loss of buoyancy that could potentially lead to an accident and serious injury or death, hence Mares has decided to issue a VOLUNTARY product recall to protect the safety of the diver.'
The recall is only applicable to newer models of the Ferplast inflator, as depicted. In particular, only inflators with a serial number from 8A – 02001 to 8A – 07630 are being recalled.



Oceanic and Hollis announce recall of diaphragm style regulators
There exists a possibility for Oceanic and Hollis diaphragm style regulators to significantly restrict airflow at low tank pressures (below 500 psi) due to a condition in the first stage, posing a drowning hazard to divers. It is of the upmost importance that if you have a regulator model listed above that was purchased OR serviced between October 1, 2017 and May 25, 2018 that it be serviced as soon as possible.


If you own a Oceanic diaphragm regulator purchased OR serviced between October 1, 2017 – May 25, 2018:
Do not dive with the affected product before it has been serviced.
Confirm if your specific product is affected by following the instructions at: www.recall.oceanicworldwide.com/pin
If your product is affected, take the product back to your local retailer for service. Oceanic retailers can be found using the dealer locator: https://www.oceanicworldwide.com
Zeagle recalls Sport BCD Inflators due to automatic inflation hazard
Zeagle is issuing an important recall regarding inflators on Zeagle Sport BCDs.
There exists a possibility that buttons on inflators of Zeagle Sport BCDs purchased between August 1, 2015 and August 31, 2018, may break or fracture leading to a rapid loss of air or auto inflation of the BCD.
It is of the utmost importance that if you have a Sport BCD with an inflator that is affected by this recall, that the inflator be replaced as soon as possible. While no incidents have occurred related to this product recall, the possibility of an incident does exist. We strongly recommend that dealers and end users take all necessary precautions when dealing with life support equipment.

NEXT STEPS: WHAT TO DO IF YOU BELIEVE YOU HAVE A PRODUCT AFFECTED BY THIS RECALL
1. Do not use the affected product(s).
2. Determine if you have an affected product by going to the website below and following the provided instructions. Alternatively, you can bring your product into your nearest authorized Zeagle Dealer.
www.zeagle.com/inflator-recall
3. Please let any of your fellow divers who may be using an affected product know about this recall.



SUUNTO announces recall of all SUUNTO Wireless Tank Pressure Transmitters and Tank Pods
Suunto has identified a potential safety risk affecting all Suunto Wireless Tank Pressure Transmitters and Suunto Tank PODs which wirelessly transmit tank air pressure to compatible Suunto dive computers. Diver safety is of highest importance to Suunto. That is why Suunto has decided to initiate a recall of all Suunto Wireless Tank Pressure Transmitters and Suunto Tank PODs.

All consumers who have a Suunto Wireless Tank Pressure Transmitter or Tank POD are instructed to bring their products to an authorized Suunto dive dealer or a Suunto Authorized Service Center for inspection and upgrade. The process is free of charge for the consumers. All Transmitters and Tank PODs must not be used before the upgrade has been made.
Click
here
for more information
Omersub Zero Cube Mask

Omer has issued a recall of the Zero Cube Mask due to a defect
in the lens thickness that could result in the class shattering.
Masks affected were produced between April 2012 through
June 2015. Contact Omer directly for a free replacement.
Click
here
for more information.
Aqualung Surelock II Rubber Weight Pocket Handles
Aqualung has issued a second recall on their Surelock II
Weight Pocket Handle. Stop using them immediately and
come to the store for a warranty repair.
Click
here
for more details.
Suunto High Pressure Hoses
Suunto has issued a safety notice regarding a limited batch of
the high pressure rubber hoses used with Suunto air integrated
dive computers, combos and analog combos. This affects
Manufacturing Batch Code 1812 only.





Atomic Aquatics Cobalt Dive Computer
Atomic Aquatics has issued a recall for a limited number of
Cobalt Dive Computers manufactured between May 2010 and
April 2012.
Click
here
for details.
Zeagle Grace and Element BCD
Zeagle has initiated a voluntary recall of all Zeagle Grace and Element BCD's.
PLEASE STOP USING THESE BCD'S IMMEDIATELY.
Click
here
for details.
Aqualung Powerline Inflator
Aqua Lung is conducting a voluntary product update of select Powerline inflators. Powerline inflators are found on all Aqua Lung Buoyancy Compensators and the Apeks Black Ice Buoyancy Compensator. If you have purchased an Aqua Lung BCD/Apeks Black Ice since January 1, 2015, it will need to be inspected to determine if it meets the specific criteria and requires updating. Click
here
for more info.
Scubapro Galileo Sol and Luna
The computer screen may freeze which may pose a risk of serious injury to divers underwater who fail to comply with the instruction to have back-up equipment with them. The recalled units are recent models of the UWATEC Galileo Luna and Sol dive computers sold beginning May 7, 2015. The dive computers being recalled bear the following serial numbers:
Galileo LUNA: from 150422 0058 001 to 150903 0338 005
Galileo SOL: from 150423 0202 001 to 150921 0001 005
Click
here
for more information