Skip Navigation
Website Accessibility
STRIVING FOR A MORE SUSTAINABLE TRIP
Every single person on our group trip has one thing in common, we all love the ocean! One World is encouraging divers to think about the impact they have on the beautiful destinations we visit. Here's a few easy ways to protect our underwater playground.
PAY CLOSE ATTENTION TO YOUR BUOYANCY
Coral is extremely slow growing, taking thousands of years to become the reefs that attract divers. By maintaining control of your buoyancy and keeping your fins off the coral, you will be protecting it from harm! You may feel a dive guide or group leader tap you on the shoulder and give you a reminder to watch your fins. Remember: coral is an animal, we want to be as kind to it as possible!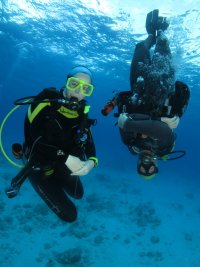 BRING YOUR TRASH HOME
Many countries do not have the infrastructure for a
great waste management program and virtually
no recycling program. Much of the trash that
goes to the dump will be burned (causing health
issues for the locals) or end up in the ocean.
We recommend taking your trash (single-use
plastics like sunscreen, defog, shaving cream,
etc.) home with you so it can be properly
disposed of or recycled. Imagine if all of us left as
little trash behind as possible!
OPT FOR REUSABLE OR PACKAGE-FREE ITEMS

Speaking of trash, you can cut way down on the amount you produce by packing reusable or package-free items. Some examples are:
- Reusable water bottles
- Reusable baggies like Stasher Bags (instead of ziplock baggies)
- Reusable silicone or metal straws
- Travel mug
- Reusable cotton rounds (to replace cotton balls)
- Toothpaste tabs like Bite Toothpaste
- Shampoo and conditioner bars
- Get your snacks from the bulk containers in the grocery store before you leave
- If you need a new tooth brush, get one with a bamboo or aluminum handle. Otherwise, use what you have!
OPT FOR "REEF-SAFE" PRODUCTS

Many of us are aware that some chemicals in
traditional sunscreen and other cosmetics cause reproductive harm to coral. Bring products that are "reef-safe", meaning there is no oxybenzone or octinoxate. Stream to Sea is a great brand for sunscreen, leave-in
conditioner, defog, and afterburn lotion.








STRIVING FOR A MORE SUSTAINABLE TRIP "TAKE ONLY PICTURES, LEAVE ONLY FOOTPRINTS"